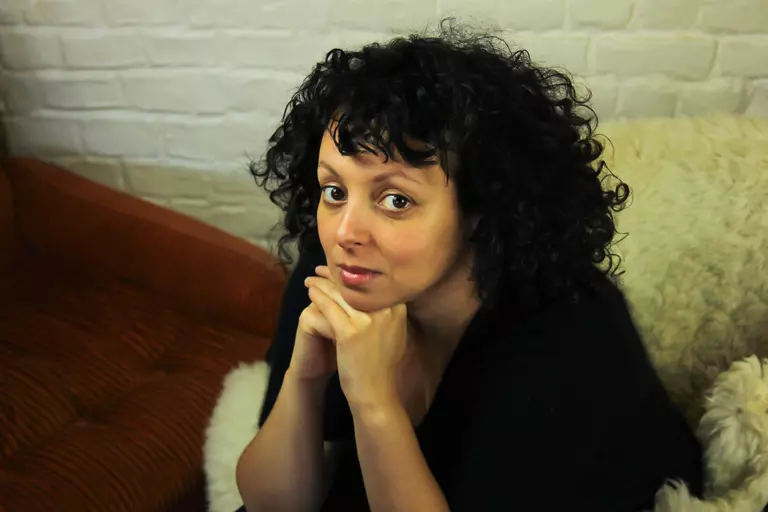 Trained at the ESACT (Royal Conservatory of Liège), Elsa Poisot is an actress, author and director. At the heart of her work, we find north-south relationships, identity, gender... In 2009 she created Ecarlate la Cie, a project where art and pedagogy intersect. The company's projects (Ti Manmaille in 2013 and Kinky Birds in 2016) explore the relationships between gender, society and culture. In 2013, she began the Autrices project with Line Guellati (our Curious Residence for 2019) and Corinne Ricuort as producer. It highlights the "foreign" literature written by Afro-descendant and African women, notably on the occasion of a first festival of the same name, organized in Brussels between September 2015 and July 2016. Since then, the project has continued between workshops, meetings and readings. 
In 2018, Elsa Poisot  began a new project with Bérénice Masset: La Deuxième Scène. It is split into in several acts and centres on the place of women in performing arts. After having dealt with the history of women's inclusion in the workplace (Act 1) and the question of repertoire and women's heritage (Act 2), its acts 3 & 4 aim, in particular, to take inventory of the inequalities in rights and practices between women and men in the fields of circus, storytelling, dance and theatre through the creation of a study including a chapter on intersectional issues. In this work, she is supported by Elise Moreau for production, ULg and UCL for university research and La Chaufferie Acte 1 for statistical monitoring regarding programs 20-21, 21-22 and 22-23, as well as in management positions.
In 2020, Elsa Poisot devoted her Curious Residence at Voix De Femmes to a new project, still in progress: Buddy Body, which she will present a stage of as part of this festival!